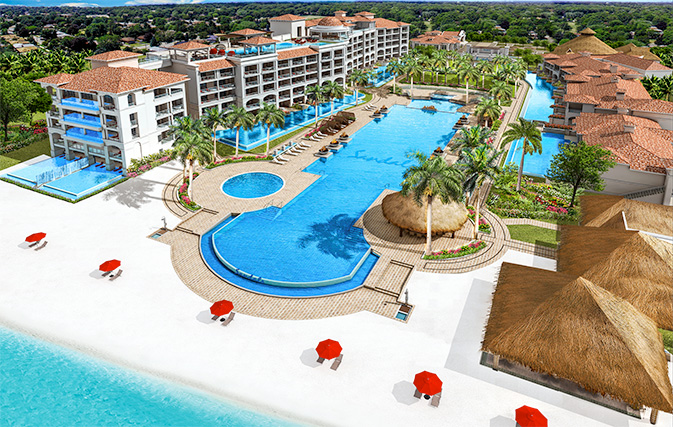 Sandals Royal Barbados "will be ready" for Dec. 20 opening; here's a sneak peek.
Guests staying at the Sandals Barbados with the Niche Travel Group April 11 -18th and April 18 -25th will have access to the brand new Royal Barbados.  Group rates are $2695 per person with all taxes included.  Jaw dropping …. we know.
Sandals Royal Barbados is the brand's second hotel on the island, adjacent to Sandals Barbados in the famed St. Lawrence Gap area on Dover Beach.
"Sandals Royal Barbados is progressing as it should and will most certainly be open and ready to welcome its first guests, as promised, on Dec. 20," said Stewart, adding that the new resort is a "game changer" for the company.
Sandals Royal Barbados will offer 222 concierge and butler-level suites, including the brand's signature Rondovals, Millionaire Butler Suites and Skypool Suites, along with an extensive Crystal Lagoon Pool Complex including Swim-Up Suites.
Amenities will include the brand's very first gentlemen's only barber shop, a full-service 15,000 square foot Red Lane Spa, four bars offering unlimited premium spirits and five signature dining establishments including French, Caribbean and Mediterranean cuisines, as well as new American and Asian-fusion concepts.
Anticipation is high for the new resort, says William 'Billy' Griffith, CEO of the Barbados Tourism Marketing Inc. (BTMI). "An established brand such as Sandals inspires great confidence in Barbados as a destination as we promote our island's diverse, high calibre product offerings around the world. We are certain that this latest addition to our product profile will bring even more benefits to our tourism economy and we anticipate that this will augment our marketing efforts in all of our major source markets."
New developments like Sandals Royal Barbados will go a long way to keep Barbados fresh and top-of-mind with potential holidaymakers, with the assurance that they will still have a safe and unforgettable holiday, said Griffith: "Huge kudos to our friends at Sandals."
Sandals Royal Barbados will also introduce the brand's first-ever rooftop infinity pool, complete with La Parisienne French restaurant and a poolside bar, as well as an entertainment pavilion featuring a four-lane bowling alley, living room and game room that Stewart says were designed to foster on-demand entertainment, available as the customer wishes.
For guests in select top category suites, Sandals Royal Barbados will also introduce chauffeured Rolls-Royce airport transfers. Also new to Sandals Resorts and debuting here, The Beach House Resort Shop, a new retail brand curated to bring together the elements of the Caribbean featuring sophisticated resort wear, home goods, local craft and provisions.
"Luxury is really about customization and personalization, and that's what our new approach to entertainment is all about," says Stewart. "We'll continue to have set shows but we're exploring new ways for guests to gather and have fun according to their schedule."
The resort will also debut a 6,000 square foot conference facility equipped with state-of-the-art technology.