Sure, the French love their baguettes, croissants, berets, couture and macarons—who wouldn't? But you don't have to be Lance Armstrong riding The Tour de France to enjoy French cycling. And when you're biking through the Bordeaux wine country, so much the better.
After all, there's much to see in Bordeaux apart from the wine. Monuments and landmarks are aplenty here, such as the lovely Place du Parlement with its richly decorated façade. It has been listed as a historical monument in 1952, this square was created in 1790. On our guided bike tour, you'll also see the more modern Tribunal de Grande Instance and the Grosse Cloche, one of the oldest belfries in France. First cast in 1775 (yes, the same year as the beginning of the American Revolution), it rings once a month (first Sunday at noon) and for six special occasions during the year (such as Bastille Day and Christmas).
The striking Grand Theater of Bordeaux is a neoclassical masterpiece and some may consider it to be among the most beautiful landmarks in Bordeaux. With Corinthian columns and 12 statues depicted nine art muses (music, astronomy, epic poetry, dance, tragedy, comedy, rhetoric, lyric poetry and history) and three Roman goddesses. Today, it is home to operas, musicals, and theater.
France has always been synonymous with shopping and you'll find no shortage here. The Rue Sainte-Catherine and Cours de l'Intendance are the two main shopping streets you'll see—and perhaps choose to cycle back to at the end of the guided tour.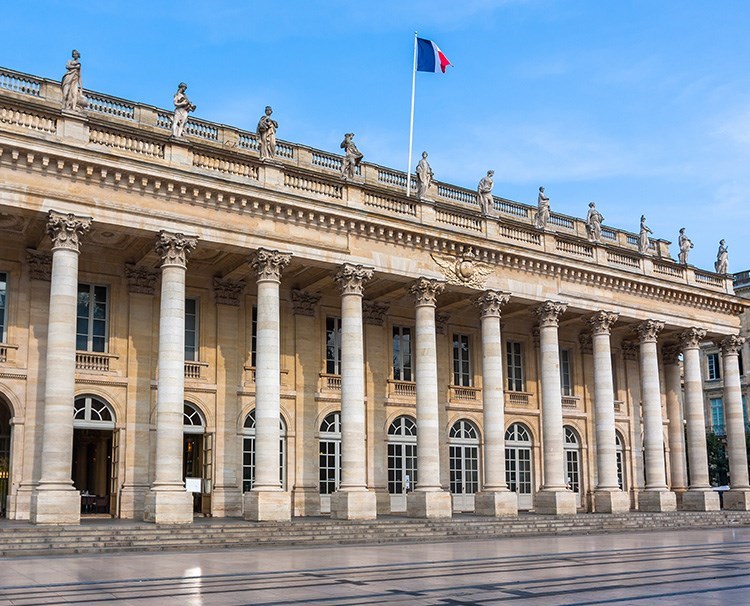 Always a favourite, the exquisite Place de la Bourse (sometimes referred to as the Place Royale) is one of the most recognizable sights in a region primarily known for its incredible vineyards. Built from 1728-1755 by architect-darlings of the court, Jacques Gabriel and his son Ange-Jacques Gabriel (known for the Place de la Concorde in Paris and parts of Versailles), the Place de la Bourse was originally intended to honor King Louis XV with a large equestrian statue of the ruler in the middle of the square. Attacked and removed during the French Revolution, the statue was ultimately replaced by the lovely fountain of the Three Graces that resides there to this day.
Of course, one of the most striking features is the "Mirror des Quais" or The Quay Mirror. A recent addition, Jean-Max Llorca built this so-called 'mirror' in 2006. It is the world's largest reflecting pool and a popular spot for both kids and adults to play during the warmer months in the summer.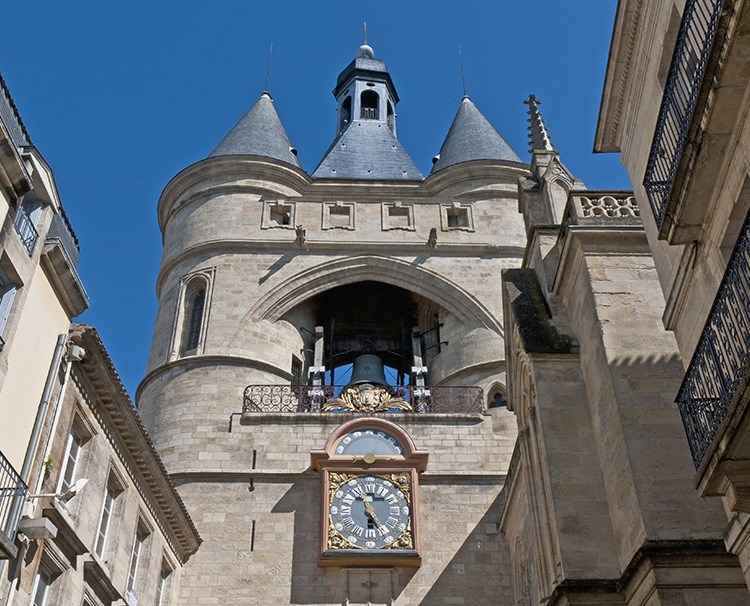 During your guided bike tour, you'll have ample time to stop, take photos and learn more. At the end of the tour, you'll also have the option to follow the guide back to the ship or loop back to spend more time at one of your favorite spots. You could also check out the wine museum.
 Thank you to AmaWaterways for this great article