Guided Tours Specialist
Amber Howard Hughes, Guided Tours Specialist
Amber Howard Hughes is also a Hawaii, River and Safaris Specialist
For over 30 years Amber Howard Hughes has been passionate about planning incredible holiday adventures for thousands of travellers. As the daughter of a Navy man who was always calling home from exotic ports around the world, her spirit of adventure was awakened early.
Upon meeting Amber one understands why clients trust her recommendations; her excitement for you and your trip of a lifetime is infectious! Having been to countless exotic destinations, Amber utilizes her expertise and personal experiences to create a vacation tailored to you and yours. Amber has experience planning it all, including complex travel itineraries, river cruises, group travel and destination weddings.
Interested in a Hawaiian adventure beyond the tourist attractions? Egypt on a Nile River Cruise? Or a visit to one of the seven wonders of the world? Perhaps you're looking for the perfect (and most relaxing) beach or destination wedding? Just ask Amber. She has designed intricate travel itineraries around Europe, the United Kingdom, India, Australia, Greece and Egypt...just to name a few. If you want to see her really excited just ask her about her experience on an African Safaris!
Escorted Group Travel
Amber started an annual hosted group vacation five years ago after mentioning to a loyal client that she was going on a tour and she suggested they "Come along!" The trip was transformative as Amber loved the experience and now she coordinates and travels with her clients every year to new locations and adventures.
If you are looking for a group (and stress-free) experience departing from Halifax, please reach out to Amber to see all of your option this year (and ask her about the time she escorted two groups in one year; an AMAWaterways River Cruise on the Danube in April and a journey through Italy in July!)
If you see Amber driving around the local South Shore towns in Nova Scotia be sure to honk and give her a wave. You can't miss her humorous caricature on the back of her car.
Clients have become friends and we have created such amazing memories together in unique destinations, incredible tours and dining experiences!
Amber's Travel Gallery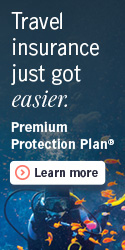 ENRICHING YOUR LIFE ONE VACATION AT A TIME


Select your next adventure below and meet the expert who will help.